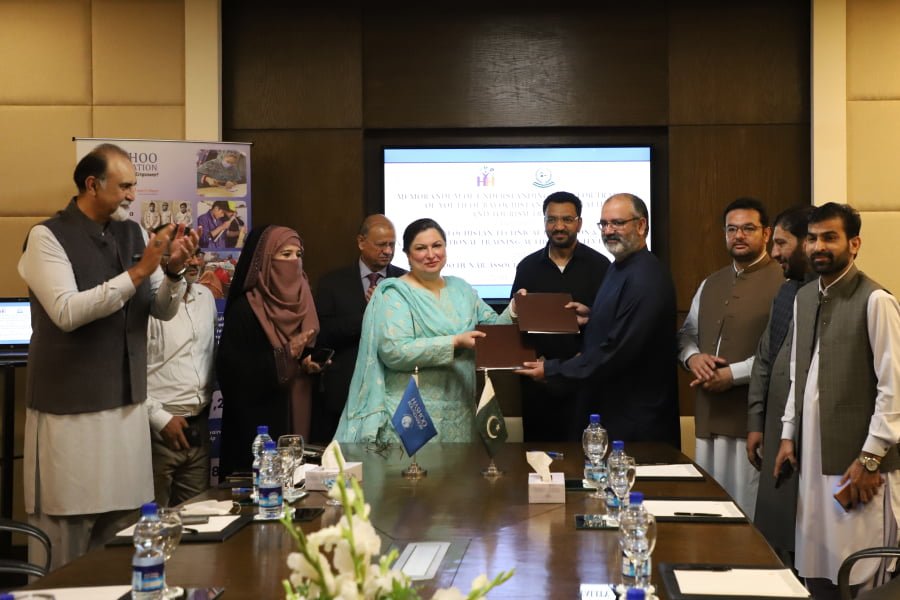 Hashoo Hunar Association (HH) is the result of Hashoo Foundation's 30 years Skills Development Program. With the success and expansion of this multifaceted skills program there was an extraordinary demand to establish a dedicated center of training and learning under the Hashoo brand. Thus, Hashoo Hunar was established under section 42 of Companies Act 2017 as a specialized training service provider working on a 'not-for-profit' basis. HH is committed to work with different stakeholder and development communities across Pakistan. It supports underprivileged communities through capacity building approaches to eliminate poverty and enable communities towards their own wellbeing.
Read More »
Hashoo Humanitarian Program commits full responsibility to observe International Humanitarian Standards as per the Humanitarian Charter, the Minimum Sphere Standards to be implemented during disasters. Hashoo also ensures the  Protection Principles and Core Humanitarian Principled Actions, Standards, Commitments and Quality Criteria.
Read More »
Umeed-e-Noor (UEN) is a nonprofit organization, registered in 1995 under the Voluntary and Social Agencies Ordinance 1961 of the Govt. of Pakistan. Located in Sector H-8/1, Islamabad, it provides a wide range of services to children with hearing impairment, physical and cognitive/intellectual disabilities. UeN goal is to provide an environment where special needs children can learn to maximize their potential and attain a degree of independence, self-reliance, and confidence to become active and accepted members of society.
Read More »
Historically, HF has worked in the Environment, Climate Change and Socio-economic development thematic approaches under the global Millenium Development Goals (MDGs).  In response to the changing context and new learning at global and national levels, HF has aligned  itself with the global Sustainable Development Goals (SDGs). The Foundation has thus named its core program as the Sustainable Development Program or The SDG Program. We aspire to share our learning and development expertise for the benefit of both national and international communities. Currently we work in collaboration with strategic partners for the achievement of the global Sustainable Development Goals (SDGs).
Read More »
Environment and Climate Change Program
The Environment and Climate Change Program is one of the three key thematic areas of the Foundation. It is a relatively new program, established as an outcome of a strategic repositioning of the Foundation in 2016. Over the course of the past four years, it has emerged as the cornerstone of programmatic synergies at the Foundation, manifested by the resounding success of the SMaRT Approach – conceptualized, implemented, and tailored by the Program since 2018 to suit diverse programmatic and organizational requirements. It aims to steer the Foundation's mission of enabling and empowering communities to be independent by facilitating equitable access to opportunities and partnering with network communities, organizations, donors, and the academia through the sustainability lens. It has also ventured into sub-programmatic areas including Water, Renewable Energy, and Solid Waste Management.
It has played a fundamental role in fundraising and forging strategic partnerships with the academia and government authorities. Campaigns at the Foundation are synonymous with the Climate Change Program – it has been the only Program over the past four years, that has championed several causes and implemented campaigns on the ground with different stakeholders. Research is also a relatively new function for the Foundation post repositioning – the Program has pioneered Action Research via support grants to students enrolled in universities across the country – consistently over the past two years.
Strategic Support Unit (SSU)
The Strategic Support Unit streamlines internal HF mechanisms to achieve programmatic goals and deliverables. It facilitates the intra-department relationships and contributes to overall programmatic design ensuring programs are transparent, effective, and quantifiable. Furthermore, it manages communications between all relevant stakeholders and brings about cohesion between HF departments and external stakeholders. The SSU also leverages the organization's past experiences and knowledge to intensify donor relationships and scouts for new venues of fundraising and resource mobilization. Moreover, The SSU provides specific support to the Country Director's office as per needed. Additionally, the SSU department ensures that gender equality is mainstreamed in all the Foundation's interventions and that the internal organizational ethos reflect its vision to work towards women empowerment and equitable practices.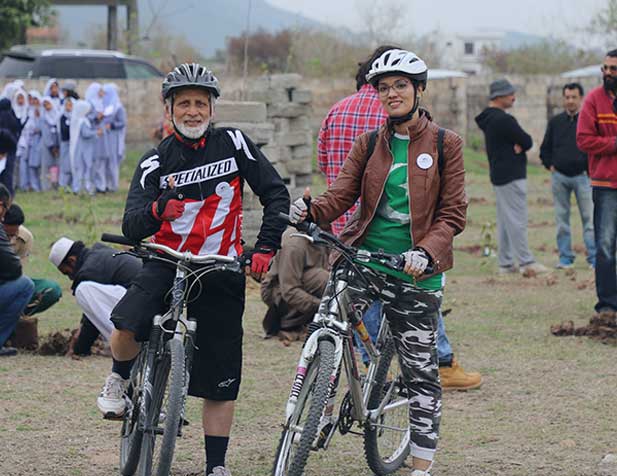 Overall, the SSU aims to strengthen institutional building and engage programs in relevant networks to utilize them strategically and continues to focus on seven (7) priority areas:
1) Fundraising and Resource Mobilization
2) Program Support including
3) Gender and Inclusion
4) Lobbying/Strategic Partnerships/Networking
5) Knowledge Series
6) CD Support
7) Entrepreneurship Development
The purpose of Comms department is to highlight and maximize the foundation and all the work HF/HT/HHA is doing for our partners, donors, public and eventually the global audience. Internally Comms provide the social and print media platforms through which our programs and campaigns can be seen. In essence Comms communicate the work from our team is doing to the public.