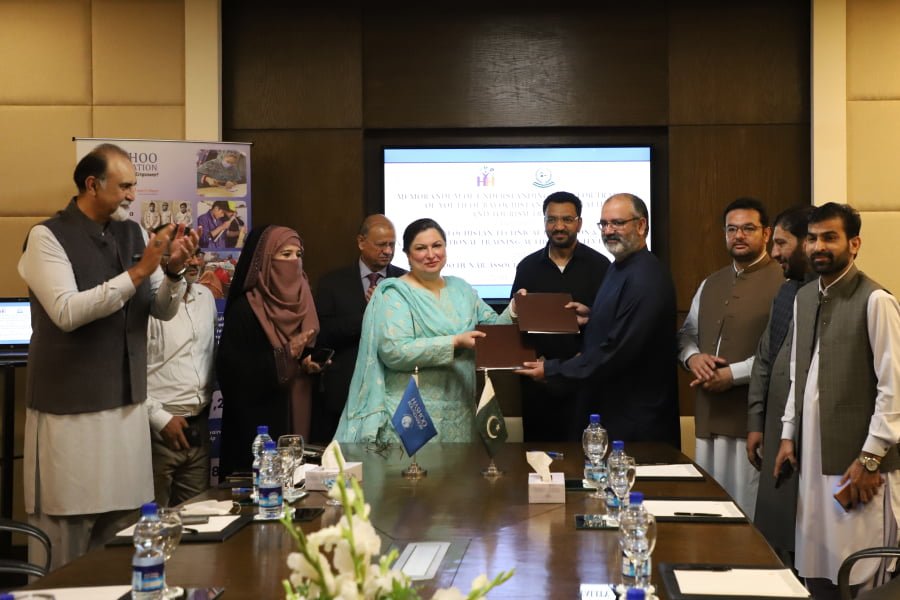 Hashoo Hunar Association (HH) is the result of Hashoo Foundation's 30 years Skills Development Program. With the success and expansion of this multifaceted skills program there was an extraordinary demand to establish a dedicated center of training and learning under the Hashoo brand. Thus, Hashoo Hunar was established under section 42 of Companies Act 2017 as a specialized training service provider working on a 'not-for-profit' basis.
HH is committed to work with different stakeholder and development communities across Pakistan. It supports underprivileged communities through capacity building approaches to eliminate poverty and enable communities towards their own wellbeing.
Objectives:
The Hashoo Hunar objectives contribute towards the organizational mission:
Human Capital Development: To build human resource Capacities and capabilities through a variety of occupational and vocational trainings further supported with Job Placement Services.
Connecting Community: To provide a platform linking the diverse market actors and development stakeholders for the socio-economic empowerment of all peoples.
Job Creation: To provide business and social entrepreneurship training through an eco-system approach for their meaningful participation in the economy.
Certifications & Accreditations
HH provides certification recognized both nationally and internationally. Thus, enabling its graduates to be more competitive in the job market. For example, International Vocational Qualifications (IVQs) curriculum/content is approved by the City & Guilds UK, National Training Bureau (NTB) Islamabad, NAVTTC & TEVTA Punjab. HH also provides training for HMTP by partnering with PSDF that is certified by Punjab Board of Technical Education
Technical, Vocational & Education Training (TVET) Program
The TVET programs provide multiple training ranging from basic to the advanced level in trades such as auto mechanic, plumbing, electrician, mobile phone repairing, tailoring (dress designing), beautician, hotel engineering, etc.
Hospitality Management Training (HMT) Program:
Introduced in 1999, HMT Program provides youth with opportunities to learn and practice the skills required for the hospitality and tourism industry in Pakistan and internationally. It is the only training program in Pakistan that provides hand-on training at Marriott, Pearl Continental Hotels, and other top brand hotels across Pakistan. This training prepares young men and women to meet both their professional and personal development needs.
Information and Computer Technology Training (ICT) Program:
Information & Computer Technology training program provides effective computer technology training to assist trainees accomplish their career objectives in IT. HH is also introducing advanced technology courses in Artificial Intelligence (AI), Cloud Computing, Data Mining, e-commerce, Digital Marketing, Cyber Security among others. The ICT Program links its trainees with the best opportunities helping them to become leaders capable of solving the technological challenges of tomorrow.
Horticulture & Agri-Business Training Program:
The agricultural farming training aims to impart a holistic understanding of the agricultural sector and improved farming technologies. It facilitate linkages to financial services and market opportunities for an enhanced income for the small farmers.  Some examples of our successful projects include Buckwheat farming in Shigar valley, Cut Flower farming in Sheikhupura, Mushroom farming in Swabi and Mardan, Seed banking in Gilgit-Baltistan.
Livestock & Dairy Training Program:
This training program engages progressive farmers and leads them towards economic sustenance and expansion. Formal enterprise groups are established through various training on production, storage and marketing techniques who establish themselves as separate registered entities. Some successful examples include Poultry Farming in Chitral, Livestock farming in Attock and Chakwal and Dairy Farming Layyah and Muzaffargarh
Early Childhood Development (ECD) Training Program:
This innovative training program focuses on building the capacities of teachers to stimulate learning in children at a very early age. The ECD approach employs an interactive and humane approach to teaching. The training has three phases including theoretical learning, practical exercises and hands-on training leading to independent studies. This training includes small parenting sessions to create conducive learning environment for children's holistic development. Hashoo ECD training program has established Multiple Intelligence Clubs.
Entrepreneurship Development Training (EDT) Program
The Hashoo EDT program is an interactive learning approach that transfers skills and knowledge in a participatory manner.  Hashoo training centers also provide opportunities for business incubation and Boot camps.
Business Development Training:
This training helps participants to move beyond the conceptual understanding and prepare their own business plans. It provides the entire range of business development services that includes gathering business intelligence to establishing their own businesses and business networks. These trainings effectively improve business and management practices and facilitate access to finance and markets.
Social Entrepreneurship Training:
Hashoo Hunar social entrepreneurship training focuses on helping participants to develop and implement their ideas that address social and environmental issues. The training takes the participants through the entire cycle of conceptualization to registration of their social enterprises.
Life Skills Training (LST) Program
Life Skills Training Program provides psychosocial and interpersonal skills to enable learners in developing self-management skills. This training includes sessions to help participant in making informed decisions and developing effective communication skills. This training grounds the participants helping them to lead healthy and productive lives.
Communication and Language skills play an essential role in the personal and professional growth of individuals. Hashoo Hunar's well thought out Language Program, e.g. Chinese, English and Arabic, includes inter-personal and communication skills based on pedagogy that maximizes the learning potential. These classes are customized to meet each students' specific learning needs and objectives.
Job Placement Cell (JPC)
Job Placement is a unique service offered by Hashoo Hunar that assists its graduates in seeking the most suitable jobs according to their skills. The Job Placement facility also offers career development support. So far HH JPC has connected the graduates with multiple job opportunities around the world. The JPC maintains a database of all its graduates and employers not only to learn from its experience but also to be readily available for any further support that may be required by the Hashoo graduates.