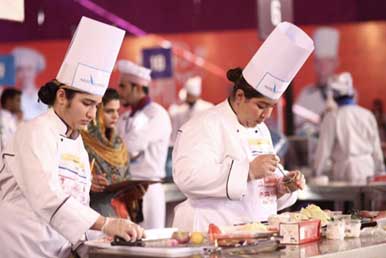 Salha Khalid is a young lady from the suburbs of Ghari Saho Lahore. She lives with her with limited resources. Salha's father is the only bread earner, who is working on daily wages to fulfill the family's basic food necessities.
With rising household expenses, the father was  unable to manage in the minimal income. This resulted in her dropping out of college.  Despite these circumstances Salha remained optimistic, and was eager to help out and contribute to the family income.
This is when she found out about the Hashoo Foundation's Hospitality management training courses. Salha approached HF training center Lahore, whereby after fulfilling the basic criteria, she was successfully enrolled in the trade of Baking & pastry under the Hospitality Management Training course of 6 months. The training not only provided core knowledge on hospitality management but helped Salha to improve her communication and IT skills through a designed module of IPCS in training regime.
By the end of the training Salha was; well acquainted with the Core training theme standards, while she enhanced her interpersonal communication skills as well as her employability skills. The Hashoo Foundation training also contributed to Salha's personal development and confidence.
After the completion of the training, the Job Placement Cell of Hashoo foundation linked Salha with the industry by referring and arranging her interviews with the renowned chain of hotels. Owing to her newly learned skills and her passion, she secured a job at a local four-star hotel as a cook-helper. Salha succeeded in achieving her farmost objective to supplement her family's income while taking the first steps towards pursuing a progressive career. Within a short span of time, Salha became a proficient employee in her organization. She soon got a chance to participate in the international culinary festival where she was awarded with a Silver medal. Salha is now serving as an outstanding individual in her chosen field.